Immagini di Kefalonia
The Loggerhead sea turtles (or also known as Caretta-caretta) are the only marine turtles nesting in Greece and the Mediterranean. They can be distinguished from other turtles by their large heads, reddish-brown shells and yellow/brown skin, while they are considered to be one of the oldest species in the world. An adult Loggerhead grows to a length of 1.0-1.2m, weights between 100-350 kg and can live for around 65 years.
A beach that equally competes Myrtos in beauty! Featuring white sand and deep blue waters, Petanoi is ideal for scuba diving and sea dips from the tall rocks. Do not forget to stay until sunset!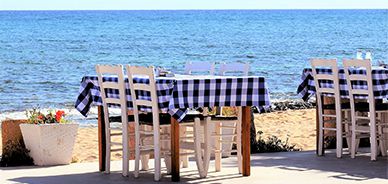 Very good dining options near the accommodation are "To Enetiko", "Esperides" and "En Kefallinia Organic restaurant". A little further away is "il Borgo" and for a really traditional Kefalonian lunch "Tzivras Restaurant".
One of the main attractions and trademarks of Argostoli is the lighthouse of Saint Theodore which is located on a man-made peninsula close to the Argostoli village. It is the most romantic spot in Kefalonia and it is highly recommended for taking photographs.
One of the most beautiful beaches of the area near the capital city. It's really in a walk's distance from Argostoli.
Megali Petra is the nearest beach to the studios, located on the first dirt road on your right as you go downhill from the studios, within 5 minutes walking. It's actually an extension of the largest and most well-known beach of Kefalonia, Avithos.
The famous Myrtos. One of the world's most beautiful beaches. A must see spectacle.
Multi awarded and renown, it stands at the top of the list of the best Greek beaches and ranks among the best worldwide, for more than ten consecutive years.
The capital of Kefalonia stands on the far end of the natural bay surrounded by mountains and verdant forests. The town was rebuilt after the catastrophic earthquake of 1953. It is a picturesque town built on hills surrounding the lagoon of Koutavos and the natural harbor formed there.