Kefalonia Views
The capital of Kefalonia stands on the far end of the natural bay surrounded by mountains and verdant forests. The town was rebuilt after the catastrophic earthquake of 1953. It is a picturesque town built on hills surrounding the lagoon of Koutavos and the natural harbor formed there.
The area of Lassi is located behind the hill of Argostoli. Here you will find the most well organized beaches of the area, stores, restaurant and services, for every need. A popular place for a walk or to spend the evening!
The beach of Ammes is found in the beautiful village of Svoronata, close to the airport, and located 9 km from Argostoli. It is a small sandy beach with crystal shallow waters. It is popular in Kefalonia and preferable from many locals and foreign visitors.
An open lake at the east part of the island near Karavomylos Village. You can take a boat ride and the scenery is really majestic!
Makris Gialos is the most famous organised beach in Kefalonia, with plenty of facilities. The beach is located in Argostoli-Airport road, 2 km outside of the capital centre, in the Lassi area. It is the beach that every traveler who likes organised beaches should visit during his holidays in Kefalonia.
The Ai Chelis beach is an organized long beach with umbrellas and sunbeds. It is located in the south of Kefalonia near Svoranata village. It is a sandy beach with a characteristic grayish color and shallow waters ideal for families.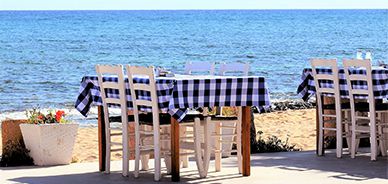 Very good dining options near the accommodation are "To Enetiko", "Esperides" and "En Kefallinia Organic restaurant". A little further away is "il Borgo" and for a really traditional Kefalonian lunch "Tzivras Restaurant".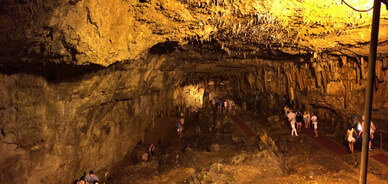 Descend the steps and an atmospheric subterranean world awaits you.
More than 300 years ago, a strong earthquake revealed the entrance to a miracle of nature: Drogarati Cave, a work of art, an astonishing marvel of more than 150 million years old, crafted gradually by nature. Orange and yellow stalactites hang from the roof like curtains while vitreous stalagmites emerge to form spacious chambers.