Kefalonia Views
The area of Lassi is located behind the hill of Argostoli. Here you will find the most well organized beaches of the area, stores, restaurant and services, for every need. A popular place for a walk or to spend the evening!
The monastery of Saint Gerasimos. St. Gerasimos is the patron saint of Kefalonia, so the Monastery is a sacred place for every citizen of Kefalonia.
An open lake at the east part of the island near Karavomylos Village. You can take a boat ride and the scenery is really majestic!
Makris Gialos is the most famous organised beach in Kefalonia, with plenty of facilities. The beach is located in Argostoli-Airport road, 2 km outside of the capital centre, in the Lassi area. It is the beach that every traveler who likes organised beaches should visit during his holidays in Kefalonia.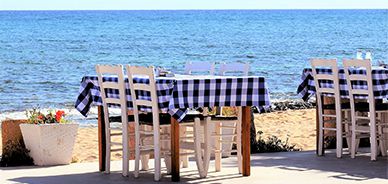 Very good dining options near the accommodation are "To Enetiko", "Esperides" and "En Kefallinia Organic restaurant". A little further away is "il Borgo" and for a really traditional Kefalonian lunch "Tzivras Restaurant".