Kefalonia Views
Asos (Greek: Άσος) is a village on the west coast of the island of Cephalonia, Greece. It is part of the municipal unit Erisos.
The Loggerhead sea turtles (or also known as Caretta-caretta) are the only marine turtles nesting in Greece and the Mediterranean. They can be distinguished from other turtles by their large heads, reddish-brown shells and yellow/brown skin, while they are considered to be one of the oldest species in the world. An adult Loggerhead grows to a length of 1.0-1.2m, weights between 100-350 kg and can live for around 65 years.
The Ai Chelis beach is an organized long beach with umbrellas and sunbeds. It is located in the south of Kefalonia near Svoranata village. It is a sandy beach with a characteristic grayish color and shallow waters ideal for families.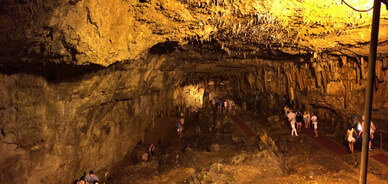 Descend the steps and an atmospheric subterranean world awaits you.
More than 300 years ago, a strong earthquake revealed the entrance to a miracle of nature: Drogarati Cave, a work of art, an astonishing marvel of more than 150 million years old, crafted gradually by nature. Orange and yellow stalactites hang from the roof like curtains while vitreous stalagmites emerge to form spacious chambers.
One of the main attractions and trademarks of Argostoli is the lighthouse of Saint Theodore which is located on a man-made peninsula close to the Argostoli village. It is the most romantic spot in Kefalonia and it is highly recommended for taking photographs.
An open lake at the east part of the island near Karavomylos Village. You can take a boat ride and the scenery is really majestic!
The famous Myrtos. One of the world's most beautiful beaches. A must see spectacle.
Multi awarded and renown, it stands at the top of the list of the best Greek beaches and ranks among the best worldwide, for more than ten consecutive years.
Avithos is the nearest organised beach to the studios, situated on the first asphalt road on your right as you go downhill from the studios, within 8 minutes walking.