Kefalonia Views
Leivatho (Greek: Λειβαθώ) is a former municipality on the island of Kefalonia, Ionian Islands, Greece. Since the 2011 local government reform it is part of the municipality Kefalonia, of which it is a municipal unit.
The famous Myrtos. One of the world's most beautiful beaches. A must see spectacle.
Multi awarded and renown, it stands at the top of the list of the best Greek beaches and ranks among the best worldwide, for more than ten consecutive years.
One of the main attractions and trademarks of Argostoli is the lighthouse of Saint Theodore which is located on a man-made peninsula close to the Argostoli village. It is the most romantic spot in Kefalonia and it is highly recommended for taking photographs.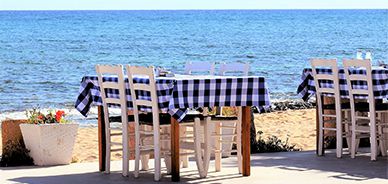 Very good dining options near the accommodation are "To Enetiko", "Esperides" and "En Kefallinia Organic restaurant". A little further away is "il Borgo" and for a really traditional Kefalonian lunch "Tzivras Restaurant".
Avithos is the nearest organised beach to the studios, situated on the first asphalt road on your right as you go downhill from the studios, within 8 minutes walking.
Visit the Kefalonian Robola Producers cooperative in Omala area, the largest wine making corporation in the island that vinifies almost the 70% of robola grapes produced annually.
The area of Lassi is located behind the hill of Argostoli. Here you will find the most well organized beaches of the area, stores, restaurant and services, for every need. A popular place for a walk or to spend the evening!
An open lake at the east part of the island near Karavomylos Village. You can take a boat ride and the scenery is really majestic!