Εικόνες της Κεφαλονιάς
Avithos is the nearest organised beach to the studios, situated on the first asphalt road on your right as you go downhill from the studios, within 8 minutes walking.
Asos (Greek: Άσος) is a village on the west coast of the island of Cephalonia, Greece. It is part of the municipal unit Erisos.
Makris Gialos is the most famous organised beach in Kefalonia, with plenty of facilities. The beach is located in Argostoli-Airport road, 2 km outside of the capital centre, in the Lassi area. It is the beach that every traveler who likes organised beaches should visit during his holidays in Kefalonia.
A beach that equally competes Myrtos in beauty! Featuring white sand and deep blue waters, Petanoi is ideal for scuba diving and sea dips from the tall rocks. Do not forget to stay until sunset!
The Ai Chelis beach is an organized long beach with umbrellas and sunbeds. It is located in the south of Kefalonia near Svoranata village. It is a sandy beach with a characteristic grayish color and shallow waters ideal for families.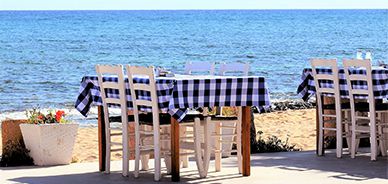 Very good dining options near the accommodation are "To Enetiko", "Esperides" and "En Kefallinia Organic restaurant". A little further away is "il Borgo" and for a really traditional Kefalonian lunch "Tzivras Restaurant".
The Loggerhead sea turtles (or also known as Caretta-caretta) are the only marine turtles nesting in Greece and the Mediterranean. They can be distinguished from other turtles by their large heads, reddish-brown shells and yellow/brown skin, while they are considered to be one of the oldest species in the world. An adult Loggerhead grows to a length of 1.0-1.2m, weights between 100-350 kg and can live for around 65 years.
The beach of Ammes is found in the beautiful village of Svoronata, close to the airport, and located 9 km from Argostoli. It is a small sandy beach with crystal shallow waters. It is popular in Kefalonia and preferable from many locals and foreign visitors.